Dairyland Murders Book 1:
Head in a Haymow
Bernice Hordstrom was just minding her own business on the family farm in Northwest Wisconsin. Then a neighbor makes a gruesome discovery…
Join Bernice and her small-town cronies as they try to maintain a normal existence, despite the possibility of a killer amongst them. Never mind that an uppity state investigator rolls into town from Madison, digging into everyone's business, especially Bernice's. She's already got one man who's acting owly. She doesn't need another one sniffing around, does she?
Dairyland Murders Book 2:
Femur in the Fieldstone
After a crazy summer of old love, new love, and a whole lot of murder, Bernice Hordstrom has had enough of dead people…
And so the beautiful season of autumn begins with more death. Secrets and whispers of the past collide with events of the present. New faces appear on the scene, some likeable, some not so much, but Bernice and Agent Wyatt are once again wrapped up in the forces around them that give no reprieve. What do two abandoned graves have to do with a missing college coed at UW Platteville? Read and find out.
Dairyland Murders Book 3:
Cop Incognito
The Hunt Is On…
Somewhere out in the western prairie, Evan Wyatt is in pursuit. By catching a calculating killer, he hopes to right a terrible wrong, restore his good name, and clear his conscience. Unfortunately, his obsession blinds his normally vigilant nature and puts him in the path of a different hunter.
Meanwhile, Bernice Hordstrom is at home on the family farm in Northwest Wisconsin, stewing in the bitter brew that is her broken heart. But the doldrums of winter are coming, and that bug up her butt is getting a lot harder to sit on. It's not like her to just let things be. Bernice doesn't wait. Bernice acts.
Whatever it takes and whomever she has to sucker into going with her, Bernice is out to find Evan and get to the bottom of things. With the help of a useful but dangerous private investigator, Bernice embarks on her fool-hearty expedition, but will she find him in time?
Dairyland Murders Book 4:
Torso in the Torrent
Spring in Northwest Wisconsin arrives with disturbing events as cold as April snow. A disfigured corpse shows up in Pattison State Park and the Superior DCI Investigator is missing.  As a result Agent Evan Wyatt is not only required to step in, he's also asked to bring his girlfriend, ex-reporter Bernice Hordstrom with him, oddly enough by the governor himself. As Agent Wyatt sorts out the rats nest of political intrigue, Bernice gets to know the lovely ladies running the Blue Silo Bed & Breakfast, probably better than she should.  Otherwise she wouldn't have to ask herself, "What are a couple of nice lesbian farmers doing with a huge bag of cash in their car?"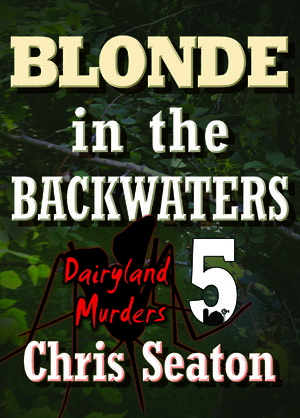 Dairyland Murders Book 5:
Blonde in the Backwaters
Bernice has to admit, so far, her new job has been fairly cushy. As the governor's press secretary, she schmoozes with the media and sets up meet-n-greets that are more like high school pep rallies.
But apparently, the cushiness is over. A small engine plane crash in the Wisconsin River Valley reveals a dead female passenger and a missing pilot. The plane belongs to the governor's father, a decorated war hero and married man.
The governor's office doesn't need anymore scandal, and Bernice doesn't need to spend more time than necessary with Governor Ryan Knutson, a handsome and pesky ghost from Nookies Past.
Bernice's live-in boyfriend and Wisconsin DCI state investigator has no clue about Bernice's former relationship with Ryan, and she'd like to keep it that way. Evan Wyatt already has enough reasons to dislike the new governor; first and foremost, because Ryan married Lexi, Evan's ex-wife, the woman who broke his heart, the woman Evan never really had any closure with.
Not that Agent Wyatt has time to find out Bernice's secret. He's too busy tracking down a serial killer who leaves young, tattooed men dead in truck stop showers. AndBernice doesn't have time to worry about it. When she recognizes the dead woman in the plane crash, Bernice becomes unwittingly involved in a human trafficking investigation of international proportions.
Trust is running thin all around, between friends, between family, between old and new lovers. Bernice and Evan trust each other unequivocally. But when confronted with relationships they thought were safely behind them, can they trust themselves?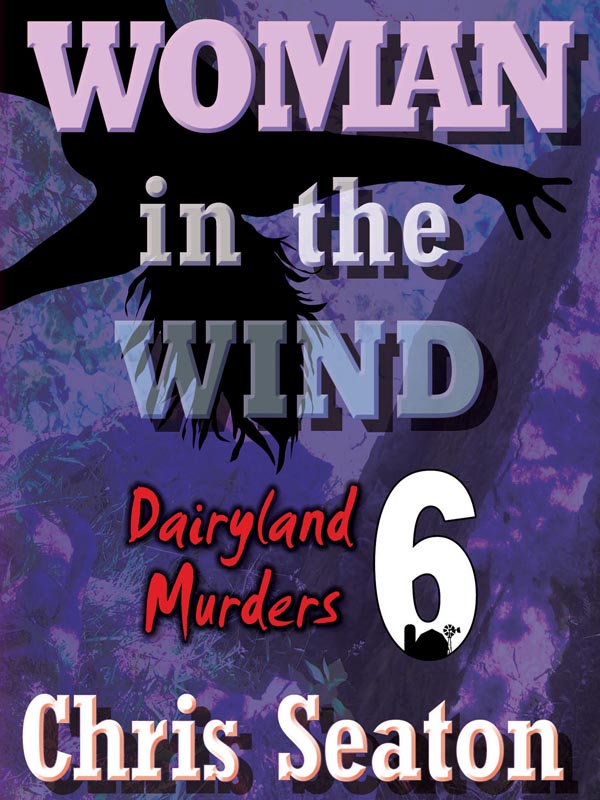 Dairyland Murders Book 6:
Woman in the Wind
Is it really over? Has Bernice left Evan for good, betrayed by his emotional infidelity and her own feelings of guilt, self doubt, and inadequacy? Is the misfit crime fighting couple finally accepting that love and sexual compatibility just can't overcome troubled inner psyches and baggage from complicated pasts?
Not if Evan Wyatt has anything to say about it. He'll stop at nothing to find Bernice and show her how important she is to his future, his sanity, his everything. Of course, he wasn't counting on having to save her life and solve a murder in the process.
Bernice Hordstrom, meanwhile, is just trying to cope with getting up in the morning and going about her day without pissing anyone off. When someone copycats a murder that is very personal to Bernice, she realizes she has failed miserably on that front. So, on the run she must go, to hide both her past, from Evan, and from this stalker who's decided to take Bernice out once and for all. She must disappear to whereabouts unknown. Bernice needs to be the woman in the wind.
All Books Now Available Here:
Kobo
Everyone else: Check out Smashwords!
Large Print Paperbacks on Amazon: